It is finally time for my favorite (or least favorite, this is a love-hate relationship) awards show. The Center for Science in the Public Interest just published its seventh-annual
XTreme Eating Awards
.
The winners (really, the losers) just keep getting better (or worse).
The
Cheesecake Factory
once again topped the charts with its Bistro Shrimp Pasta. The pasta dish tips the scale at a whopping
3,120 calories
and
89 grams of saturated fat
.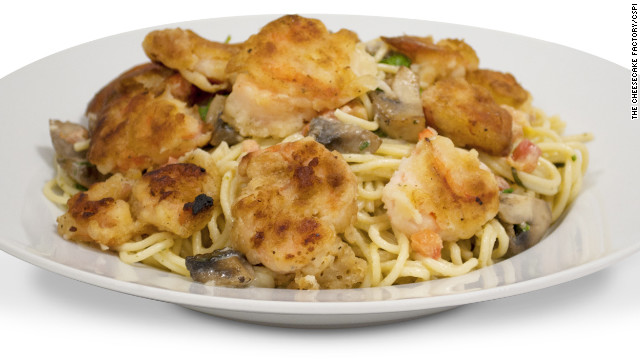 Cheesecake Factory Bistro Shrimp Pasta, from CNNHealth.
The Cheesecake Factory seems to be on an endless quest to keep the XTreme Eating Awards title. Just two years ago, the Cheesecake Factory
took Xtreme Eating gold
with its Farmhouse Cheeseburger. The burger packed
1530 calories
and
36 grams of saturated fat
. But compared to the Bistro Shrimp Pasta, the Farmhouse Cheeseburger seems like diet food.
Just how far will the Cheesecake Factory go to remain the most unhealthy restaurant in the United States?
What is surprising about the Bistro Shrimp Pasta is that by simply looking at the menu,
it actually seems somewhat healthy
. The menu describes the dish as:
Crispy Battered Shrimp, Fresh Mushrooms, Tomato and Arugula Tossed with Spaghettini and a Basil-Garlic-Lemon Cream Sauce.
Yes, the meal actually contains real vegetables, fruits, and herbs: tomato, argula, basil, and lemon.
Do not let this fool you.
The Cheesecake Factory starts with 3 and 1/2 cups of white pasta (normal serving size is one cup), then tops it with a butter-laden cream sauce and 8 or 10 battered, fried shrimp. The few vegetables mixed into this monstorous entree have little redeeming value.
Johnny Rockets's, IHOP, Smoothie King, Maggiano's Little Italy, Chili's and Uno Chicago Grill also took XTreme Eating Awards.
All the winners contain over 1400 calories.
Michael F. Jacobsen, the Executive Director of the Center for Science in the Public Interest,
commented
,
It's as if IHOP, The Cheesecake Factory, Maggiano's Little Italy, and other major restaurant chains are scientifically engineering these extreme meals with the express purpose of promoting obesity, diabetes, and heart disease...You'd think that the size of their profits depended on their increasing the size of your pants.
I tend to agree. What do you think?
Read more from
The Center for Science in the Public Interest
,
The Huffington Post
, and
WebMD
.
-The Green Jalapeño